LOST MUSICALS™
Since 1989 LOST MUSICALS™ has been giving contemporary audiences, in London and New York, a unique chance to see neglected or forgotten works by the finest librettists, lyricists and composers of the early twentieth century musicals. Over the last seventeen years, their estates have allowed us to organise reconstructions of over 60 different such works.
LOST MUSICALS™ is always faithful in presenting the writers work and their shows as they first appeared, but recreated in concert form to be performed in London and New York. These first division theatre writers and composers have included Cole Porter, Richard Rodgers, George S. Kaufman, Oscar Hammerstein II, Moss Hart, George Gershwin, Ira Gershwin, E.Y. Harburg, Kurt Weill, Irving Berlin, Stephen Sondheim, Jerome Kern, Herbert Fields, Dorothy Fields, S.J. Perelman, Ogden Nash, Burton Lane and Alan Jay Lerner.
Sabbatical
The LOST MUSICALS™ is currently taking a sabbatical and using this special period to engage in more research in dusty archives to seek out further lost gems.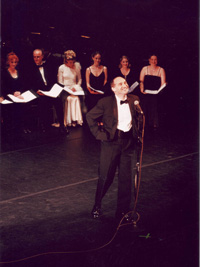 Ian Marshall Fisher,
Royal Opera House, London, 2001